Foundation Grants to Nonprofits
Foundation Grants to Nonprofits
Capital City Bank Group Foundation Awards $48,628 to Nonprofits In Leon and Gadsden Counties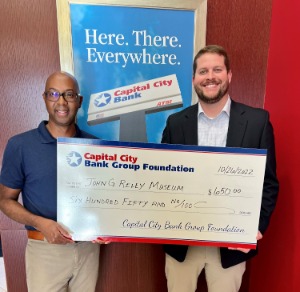 Capital City Bank Group (CCBG) Foundation – a nonprofit organization created in 1983 by Capital City Bank Group, Inc. – has donated annually for 39 years to charitable institutions across the Capital City footprint in Florida, Georgia and Alabama. During the 2022 grant cycle, the CCBG Foundation reinvested $48,628 into the communities of Leon and Gadsden counties, awarding grants to organizations like Foundation for Leon County Schools, John G. Riley Museum, Ounce Of Prevention Fund of Florida, Omega Lamplighters, Lutheran Social Services of North Florida, Tallahassee Citizens Police Academy, Tallahassee Friends of our Parks, Tall Timbers, Quincy Main Street, National Hook-up of Black Women Gadsden County Chapter, A Better Body Health & Safety, St. Francis Wildlife Association, Havana History & Heritage Society Museum and Havana Main Street. The donations provided by the CCBG Foundation help nonprofits carry on the mission of the Foundation to enhance the quality of life for countless local citizens in the areas where we do business.
"Since our founding in 1895, Capital City Bank has prioritized putting people first and doing the right thing," said William Smith, Capital City Bank president of Leon and Gadsden counties. "We live in the communities we serve and believe we have an obligation to enhance the quality of life for our neighbors in need."
The CCBG Foundation provides grants to nonprofits, charitable organizations, and institutions exempt under Section 501(c)(3) of the Internal Revenue Code. The mission of the CCBG Foundation is to invest in initiatives that benefit local communities. Most of the funds are distributed to specific areas of focus, including: arts/culture, children/youth services, economic/community development, education, health/sciences and human services.