Capital City Bank Celebrates New Office Opening In Gainesville
Capital City Bank Celebrates New Office Opening In Gainesville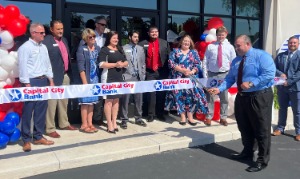 On Tuesday, May 2, Capital City Bank, hosted a ribbon cutting to commemorate the opening of its new banking office located at off Archer Road just west of U.S. Highway I-75 at 4103 43rd St. Attendees included leadership from Capital City Bank and Blue Sky Holdings Inc., as well as several members of the Alachua County Chamber of Commerce.

"Capital City Bank is excited to announce the opening of our fourth location within the Gainesville city limits, bringing our total number of offices serving the Alachua County area to seven," said Rob Deese, President of the Gainesville Market. "Our team has grown to include 49 knowledgeable bankers and lenders who are committed to providing expert advice and guidance for all your financial needs, from personal to business and commercial. I am immensely proud of our dedicated Gainesville bankers who always prioritize serving and caring for our valued clients."

Virtual teller technology enables live assistance from a banker via video chat and is available to Capital City Bank clients with or without a debit card from 7 a.m. until 9 p.m., Monday through Friday, and from 9 a.m. until 3 p.m. on Saturday in the drive-in or entryway vestibule, which is secured for client protection and accessible with a Capital City Bank Visa® debit card during extended virtual teller hours. The machines are equipped with a Smart ATM option for self-service banking with a debit card 24 hours a day. The Smart ATM has all the standard features of a traditional ATM but includes several key enhancements that make it easier, faster and more convenient than ever before. It accepts cash and check deposits up to 30 items in a single transaction, and checks post same day when deposited by 8 p.m. on business days.

Founded in 1895 and headquartered in Tallahassee, Florida, Capital City Bank provides a full range of consumer, wealth management, business and commercial banking services. The Bank has repeatedly been selected best bank or financial institution in multiple communities across its footprint, including Tallahassee, Crawfordville, the Emerald Coast and Palatka, Florida, and Cairo, Georgia. Additionally, the Company has been chosen for Florida Trend magazine's "Best Companies to Work For in Florida" eleven years in a row and the American Banker magazine's "Best Banks to Work For" every year since the list's inception in 2013.