Capital City Bank Voted Among the "Best of Tallahassee"
Capital City Bank Voted Among the "Best of Tallahassee"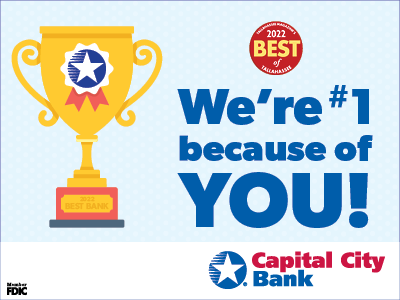 TALLAHASSEE, Fla., January 4, 2023 – Capital City Bank – a longstanding financial institution with more than 125 years of community banking experience serving Georgia, Florida and Alabama – has been voted "Best Bank" among Tallahassee magazine's 2022 "Best of Tallahassee." The 2022 release marks the fourteenth time Capital City Bank has been recognized since financial institutions were added in 2008. Prior to this year's vote, the Tallahassee-based bank received the top ranking in 2010, 2012, 2013, 2015, 2016, 2017 and 2019 and was named "Honorable Mention" in 2009, 2011, 2014, 2018, 2020 and 2021.
"We thank our community for voting Capital City among Tallahassee's top service providers," said William Smith, Capital City Bank president of Leon and Gadsden counties. "At Capital City Bank, we're part of a banking tradition that values relationships and focuses on making a difference. This distinction is a testament to our commitment to providing top-notch service, and it's an honor to once again be named the best financial institution in the city where we're headquartered."
For more than 40 years, the award-winning Tallahassee magazine has captured the essence of Florida's vibrant capital and shared it with readers. Each year's winners reflect favorite local restaurants, service providers, shopping, entertainment and more. Companies must be locally owned Tallahassee area businesses to participate. The readers of Tallahassee magazine choose the winners, and categories are revisited each year. Results are published annually in the November/December issue.
For a complete list of the 2022 "Best of Tallahassee" honorees, visit TallahasseeMagazine.com.
About Capital City Bank Group, Inc.
Capital City Bank Group, Inc. (NASDAQ: CCBG) is one of the largest publicly traded financial holding companies headquartered in Florida and has approximately $4.4 billion in assets. We provide a full range of banking services, including traditional deposit and credit services, mortgage banking, asset management, trust, merchant services, bankcards, securities brokerage services and life insurance. Our bank subsidiary, Capital City Bank, was founded in 1895 and now has 57 banking offices and 86 ATMs/ITMs in Florida, Georgia and Alabama.