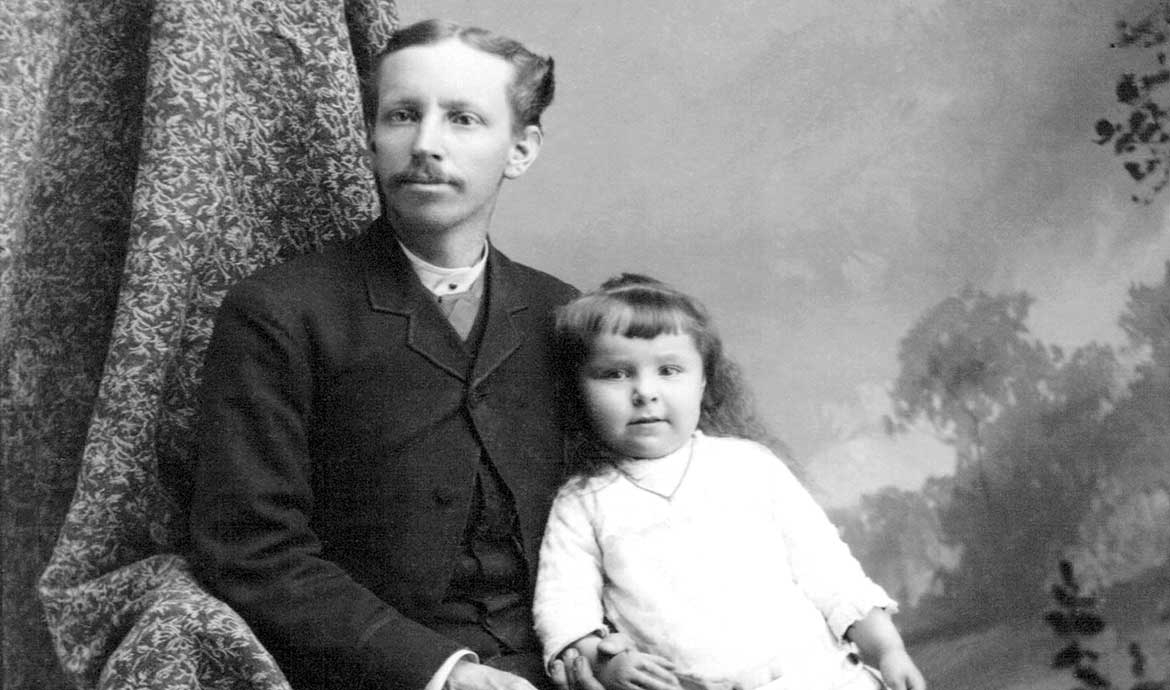 125 Years Ago...
---
Before automobiles and electric power in Tallahassee, Florida, the private banking house of G. W. Saxon & Co. gave way to the newly chartered Capital City Bank. We are one of America's oldest banking institutions. (George W. Saxon and Bessie Saxon pictured)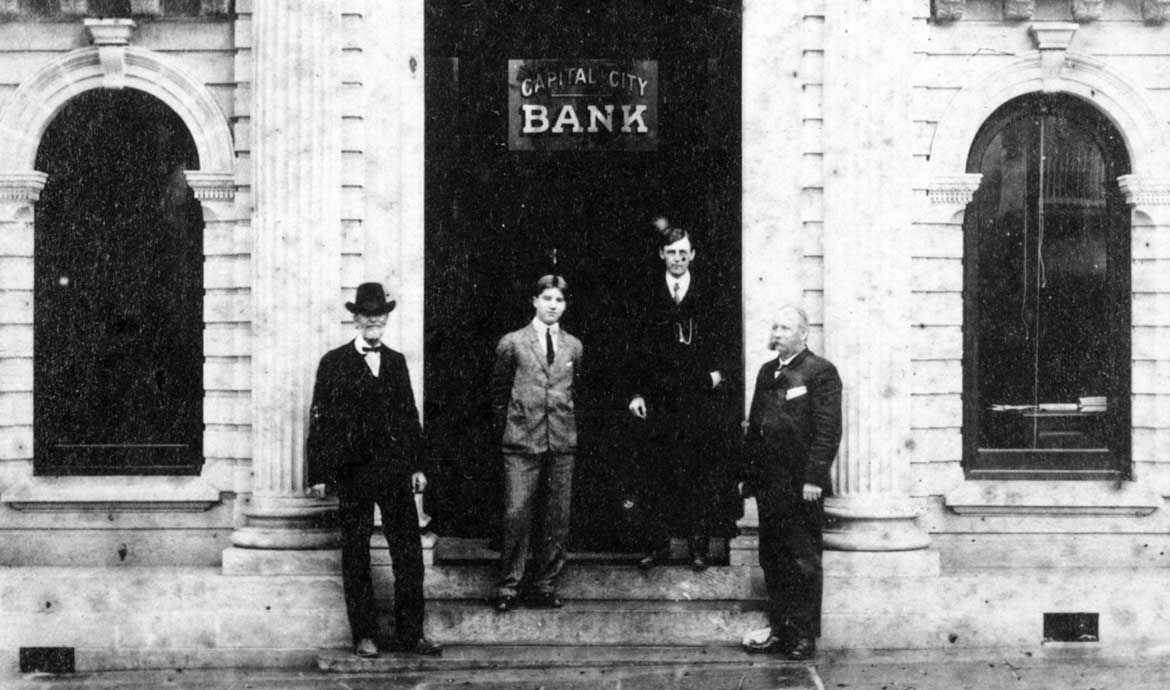 118 Years Ago...
---
Bank founder George Washington Saxon attended his first meeting of the Florida Bankers Association in 1902. Capital City Bank has continued to provide industry leadership at both state and federal levels ever since.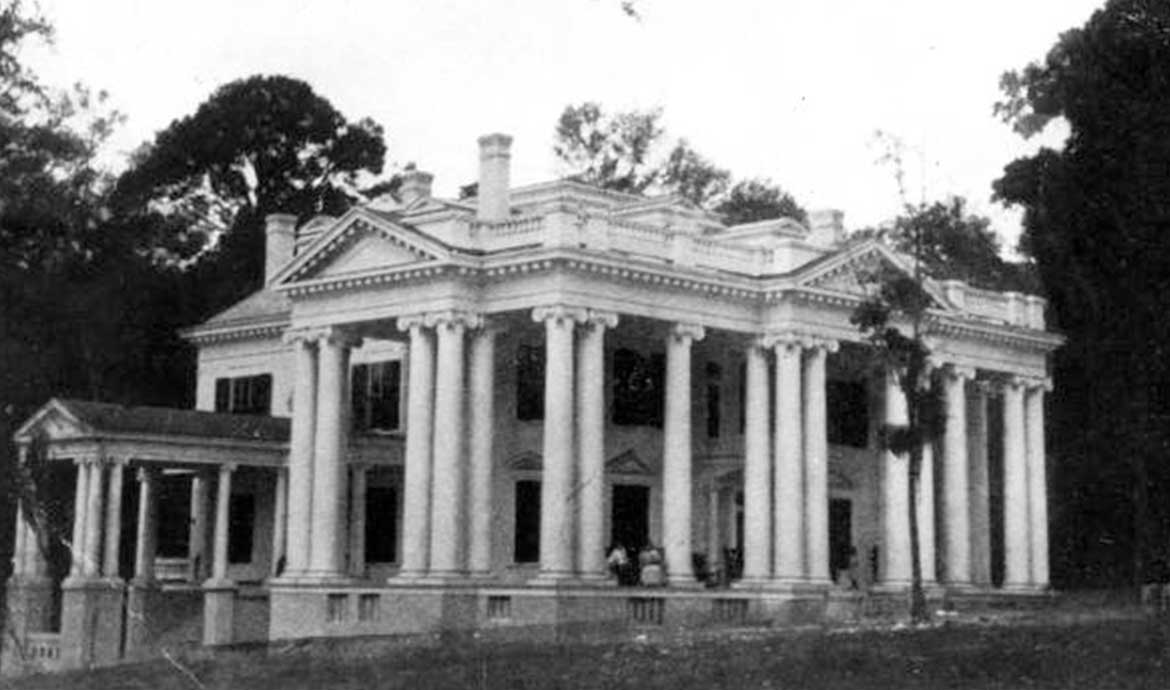 115 Years Ago...
---
Capital City Bank's leadership has been on the forefront of preserving the state capitol in Tallahassee. When lawmakers budgeted for construction of a governor's mansion with no plan for the location, our bank's founder donated land for the project.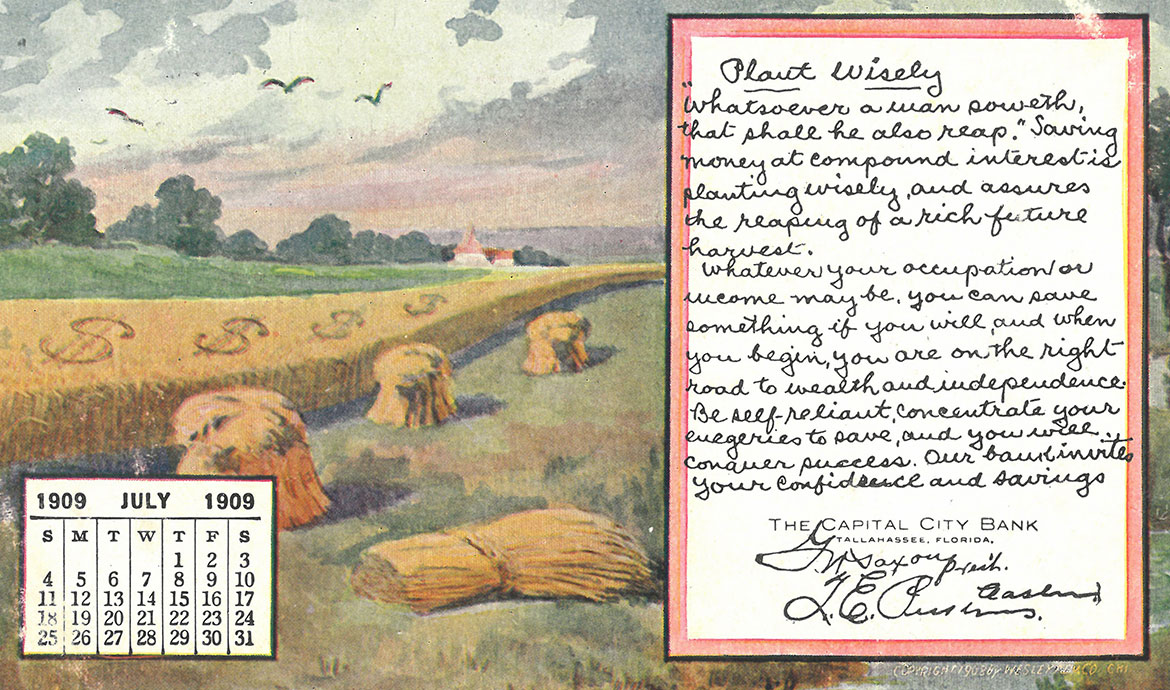 108 Years Ago...
---
In the face of widespread bank failures following the panic of 1907, Capital City Bank was described as one of the "gibraltars of strength." It's continually listed among the best performing banks in Florida and the soundest banks in the nation.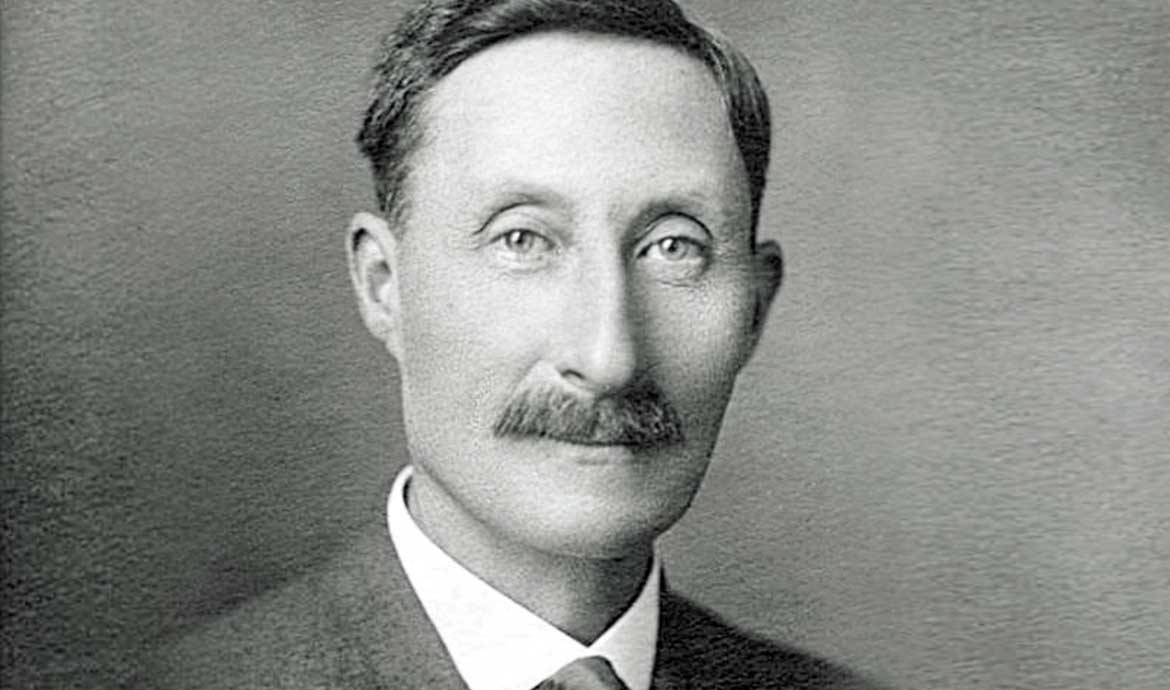 101 Years Ago...
---
Modest turpentine and timber harvester William Henry Smith joined the Capital City Bank board in 1919, which launched four generations of family leadership and helped preserve the bank's strong community ties.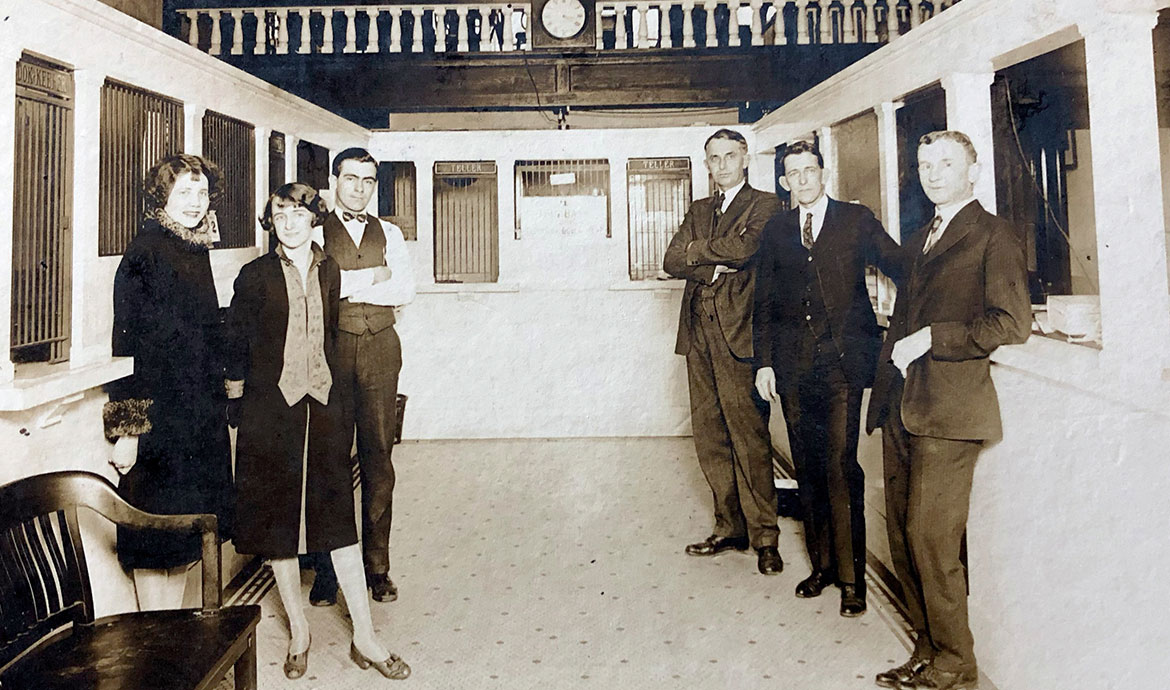 94 Years Ago...
---
When the boom went bust in Florida due to real estate excesses, railroad strikes and a violent hurricane, many banks failed. Capital City Bank was the exception. It was described as "ably officered, most conservatively managed" and having the confidence of "all the people."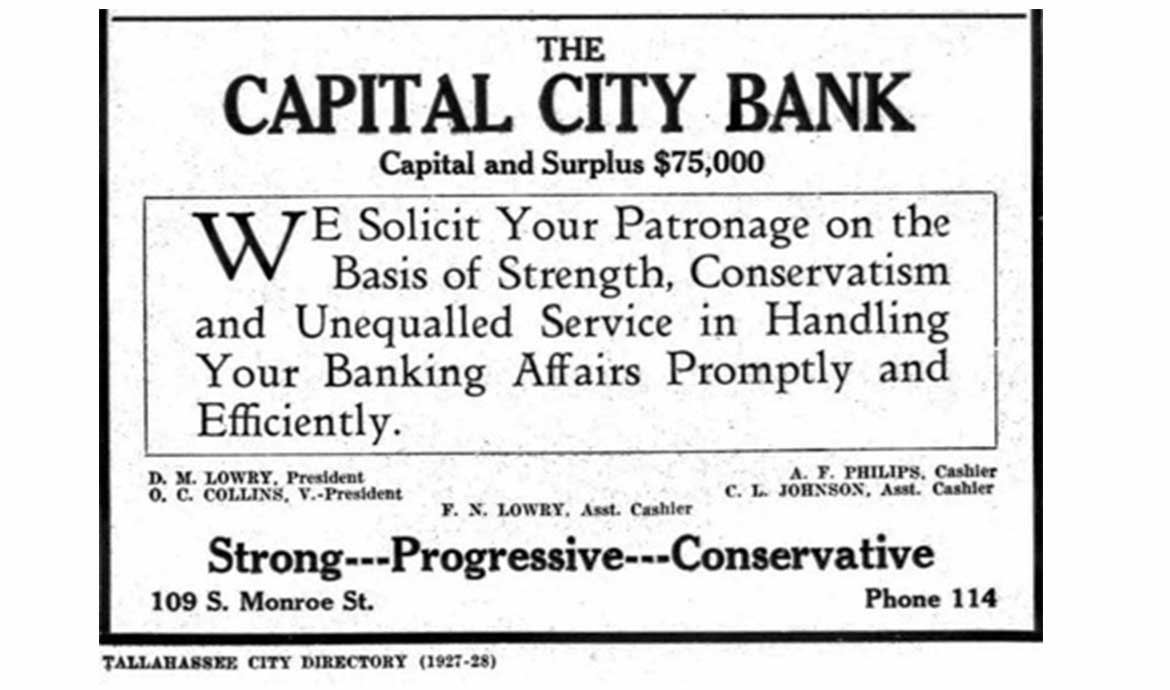 91 Years Ago...
---
Despite the stock market crash and the Great Depression, Capital City Bank seemed "impervious to financial disaster" through its fiscal conservatism, care and diligence in making loans and carrying a large cash reserve.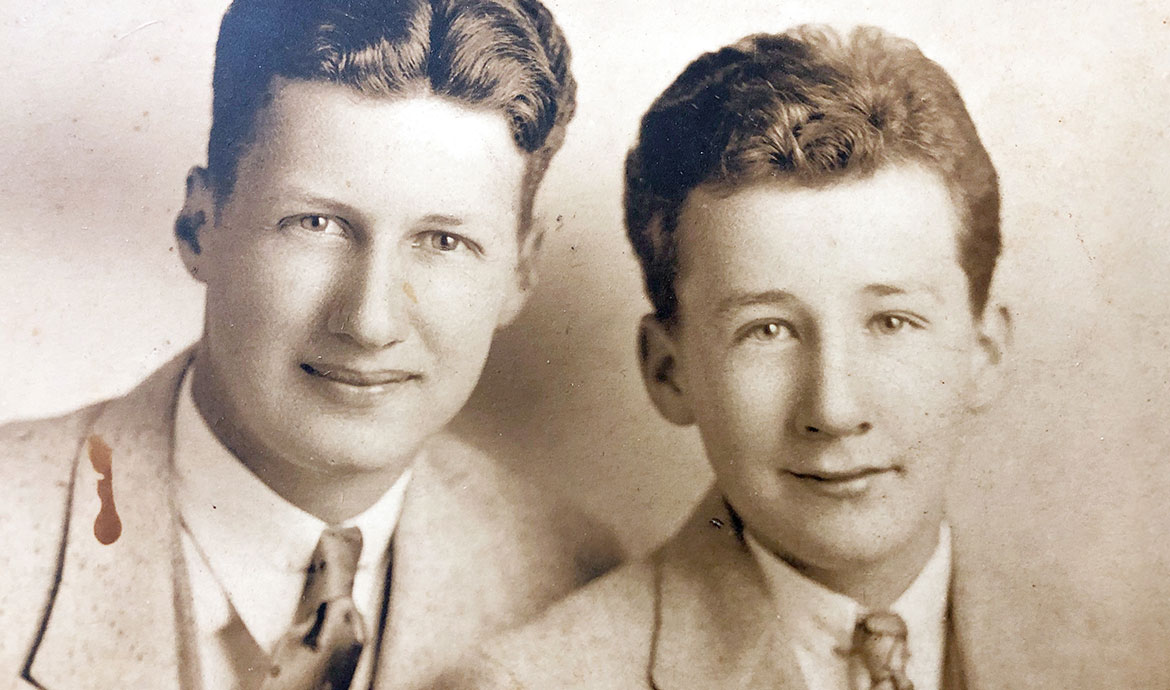 83 Years Ago...
---
During the throes of the Great Depression, the bank's majority ownership passed from one widow to another. The day after Fanny Smith's son, Godfrey, graduated from the University of Florida he became the bank's 13th associate. Their family legacy continues. (Godfrey and Julian Smith pictured)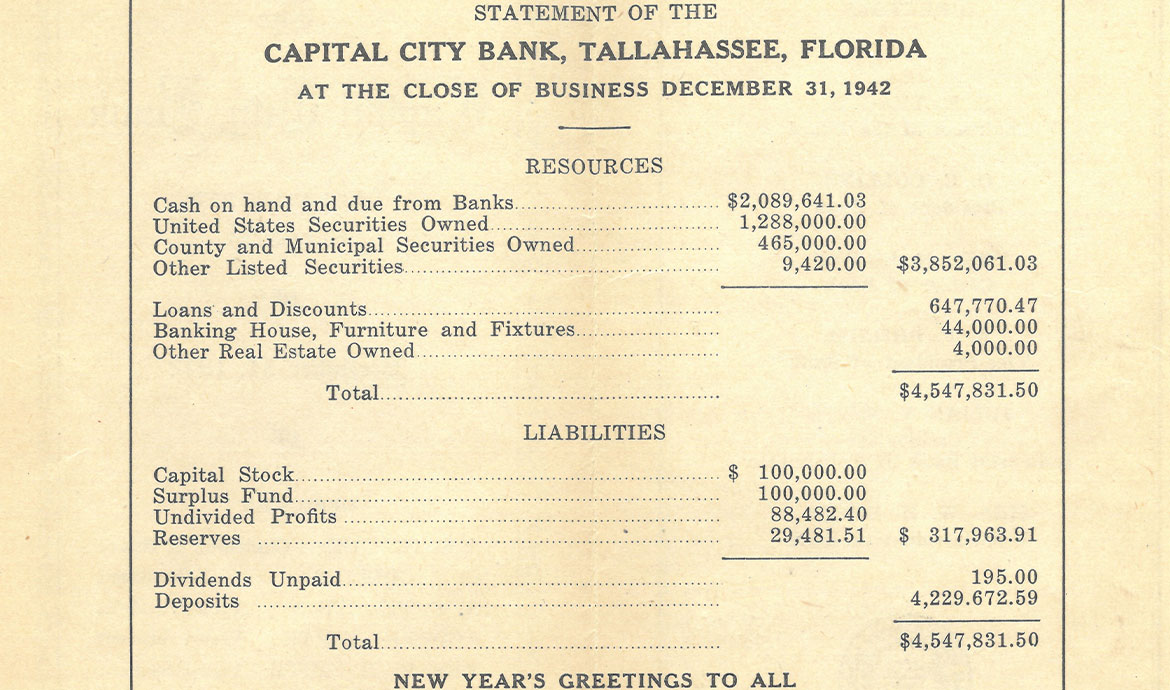 78 Years Ago...
---
With so many of its native sons defending the country in World War II, Capital City's affiliate, Industrial Bank, received permission to de-activate its charter, a move unheard of in banking history. Industrial re-opened at war's end.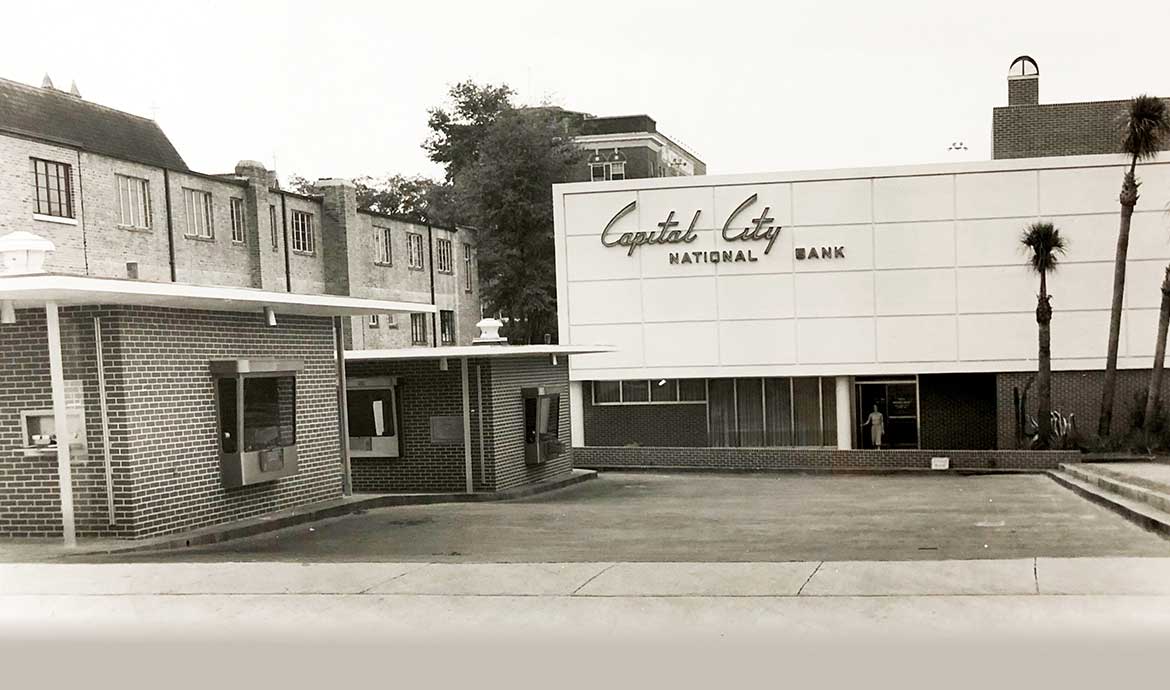 63 Years Ago...
---
To better accommodate drive-up window banking, Capital City Bank relocated two blocks from its original location, where it had been for more than sixty years. In the first nine days  1,177 cars used the two drive-in tellers; a full-scale "auto bank" was later built on Calhoun Street.
53 Years Ago...
---
Because branch banking was prohibited in Florida, Capital City Bank's investors opened up affiliate banks. Second National Bank was the first commercial banking facility west of Monroe Street, to better serve the thriving university and community college campuses.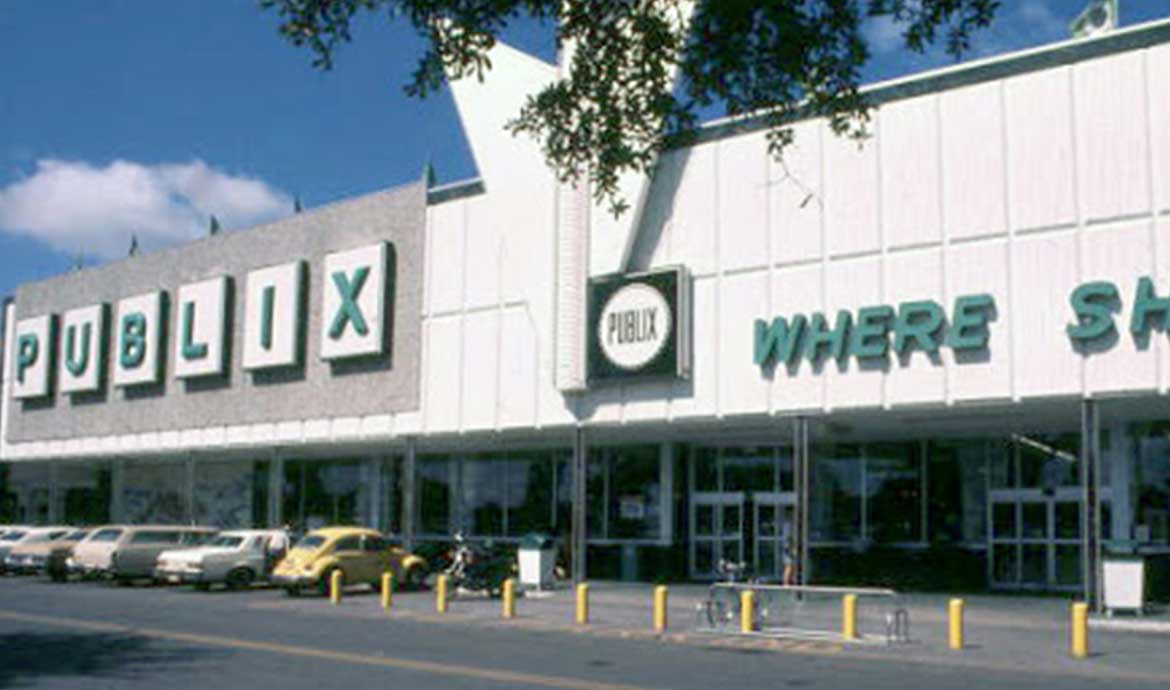 44 Years Ago...
---
Capital City Bank launched a unique concept called Bank-n-Shop, in partnership with Publix supermarkets. The bank-where-you-shop convenience later included other banks, the first of its kind in the nation. Bonus: the store's bad-check problem was virtually wiped out.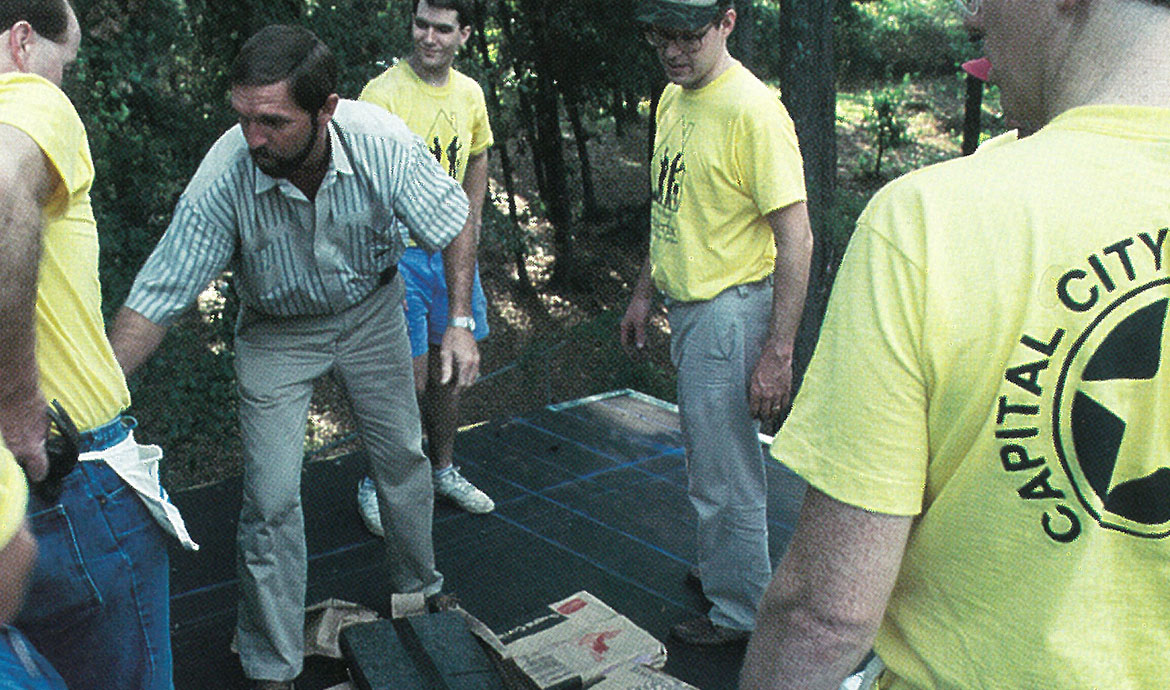 37 Years Ago...
---
To continue its legacy of building strong communities, Capital City Bank launched a non-profit foundation. Its voluntary board of directors provides grants to non-profit, charitable organizations and institutions in communities the bank serves.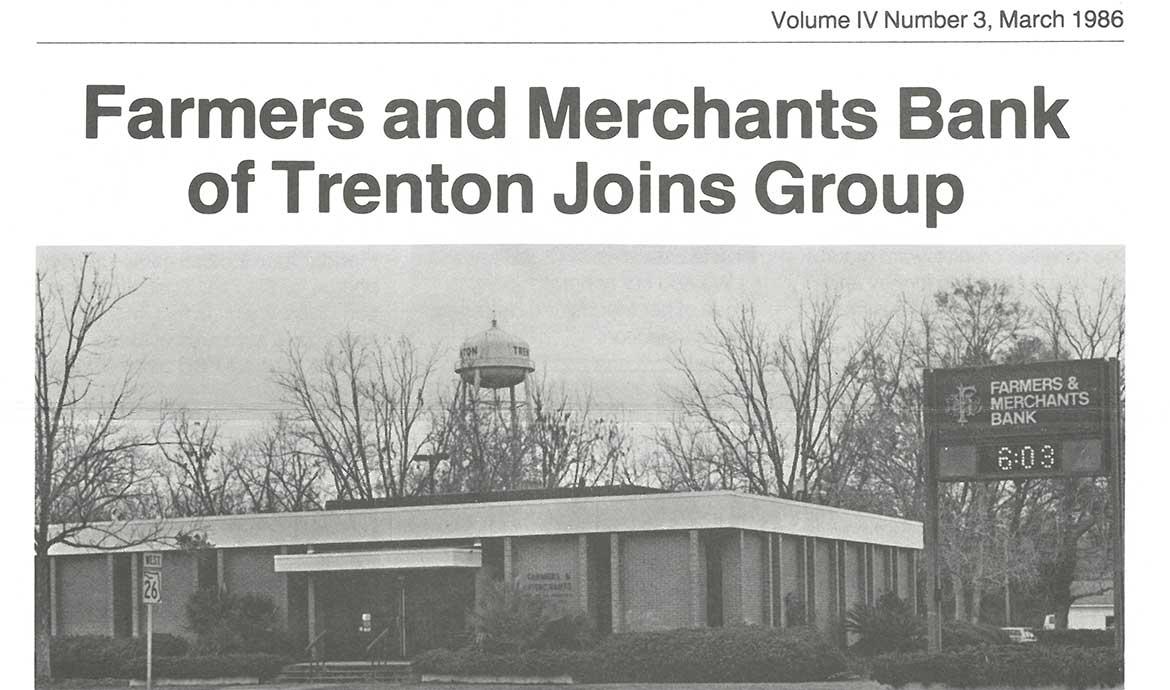 34 Years Ago...
---
While many community banks were disappearing through super regional takeovers, Capital City Bank was quietly expanding its footprint across the state line into Georgia and middle Florida. In 15 acquisitions, most associates and even bank presidents were retained.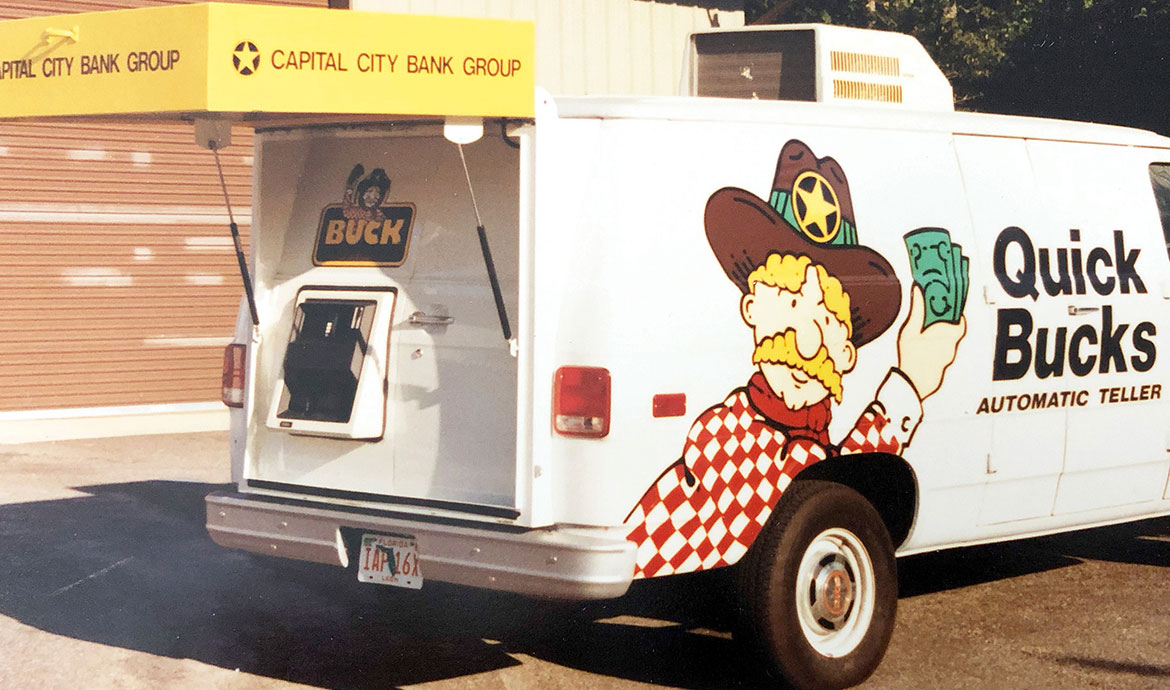 30 Years Ago...
---
Capital City was one of the early Florida banks to offer ATMS; debit transactions were made using a "Buck Card." The bank also introduced the first mobile ATM called "Buck in a Truck" in 1990. The colorful van was popular at Springtime Tallahassee and Market Days events.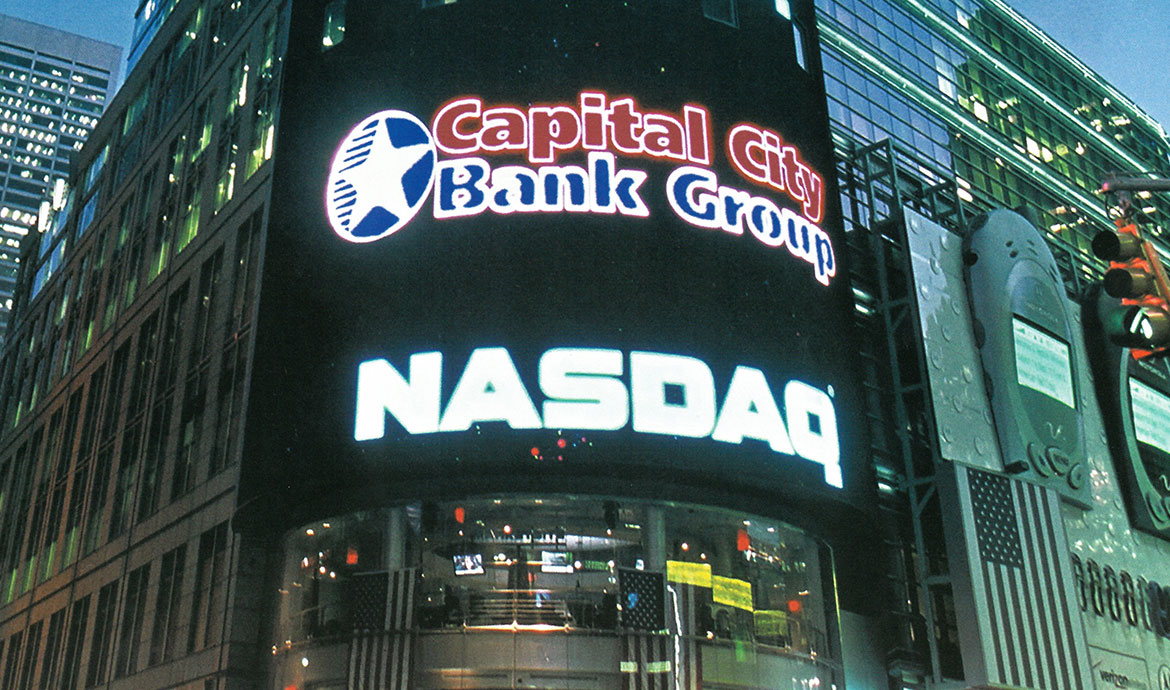 25 Years Ago...
---
To mark the bank's 100th year in business, all banking offices were consolidated under one bank holding company: Capital City Bank Group. Two years later, the stock began trading on NASDAQ –not to raise capital, but to streamline, as the bank continued its acquisition strategy.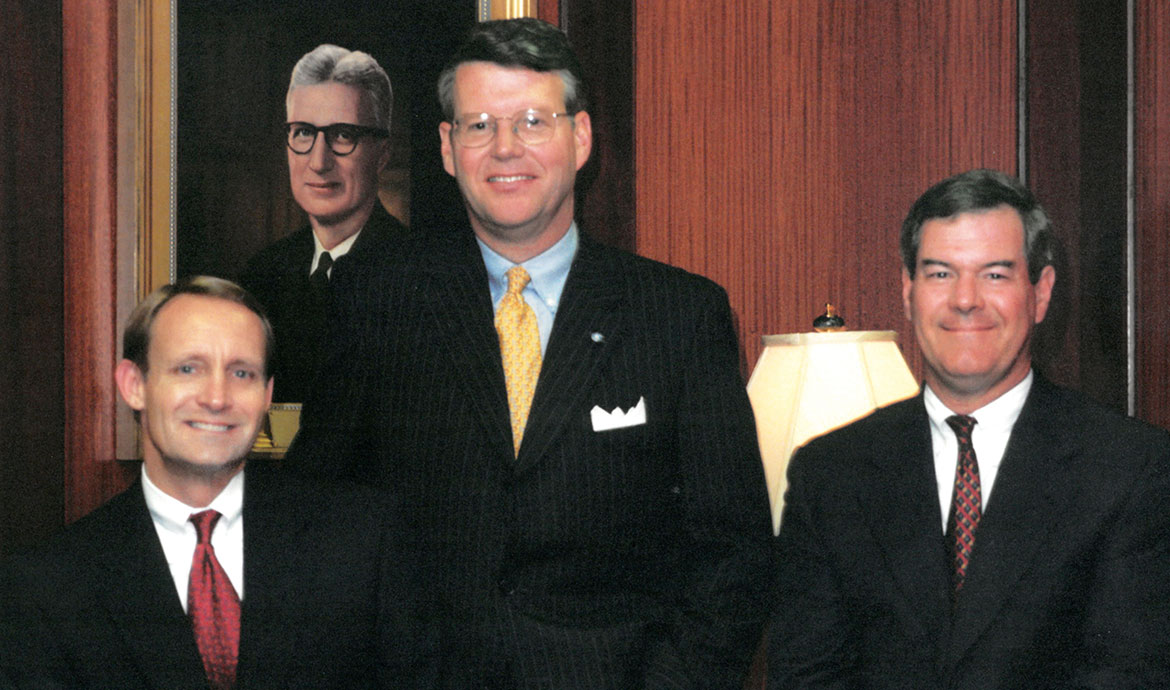 22 Years Ago...
---
Association leadership redux: Bill Smith was Community Banker of the Year, and Kim Davis was president. Ten years earlier, Godfrey Smith was Community Banker of the Year and Tom Barron was president.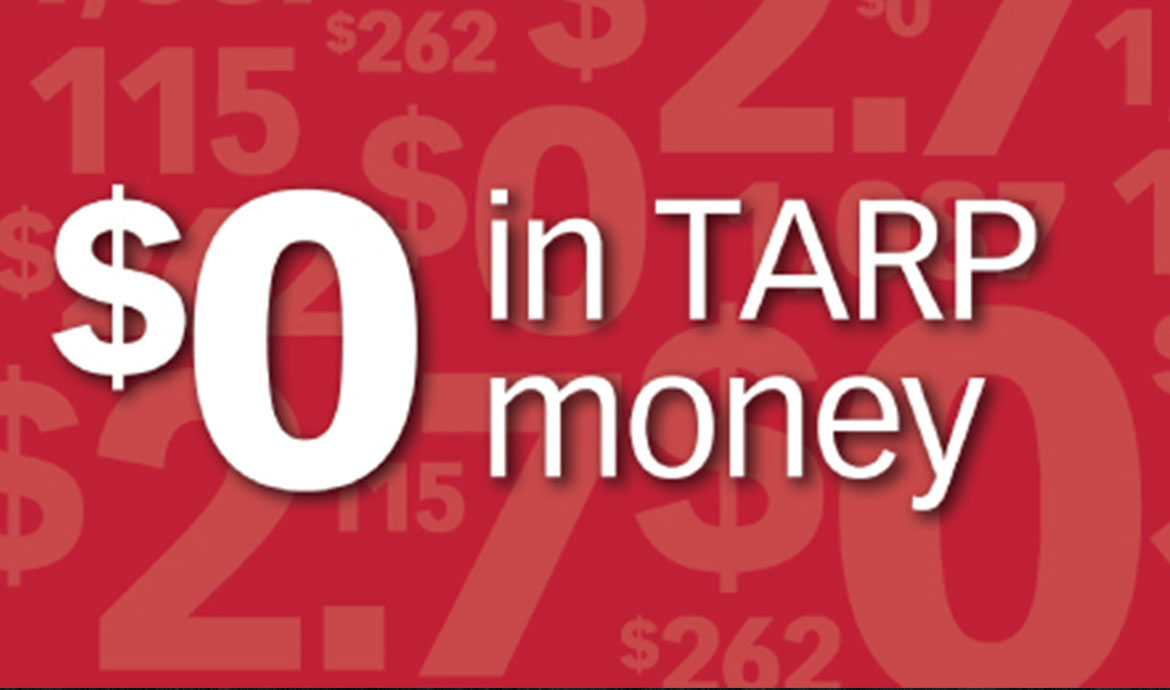 13 Years Ago...
---
During the most recent global economic downturn, Capital City Bank was the only Florida-based, publicly traded institution to reject federal TARP funds. The bank's strong capitalization and minimal institutional ownership preserved that freedom.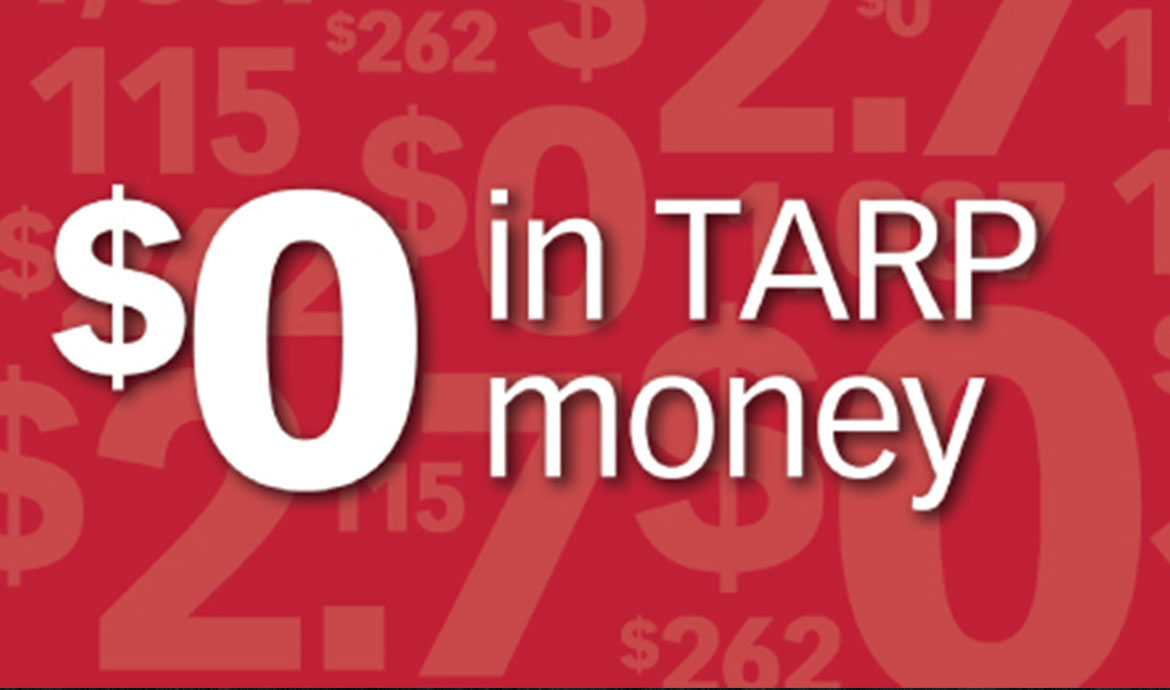 5 Years Ago...
---
From the end of 2007 until the end of 2015, the state of Florida alone lost 157 banks—about half through failure and half through mergers. Capital City Bank's historical abundance of capital, loan diversification, seasoned leadership and conservative lending practices saved this bank.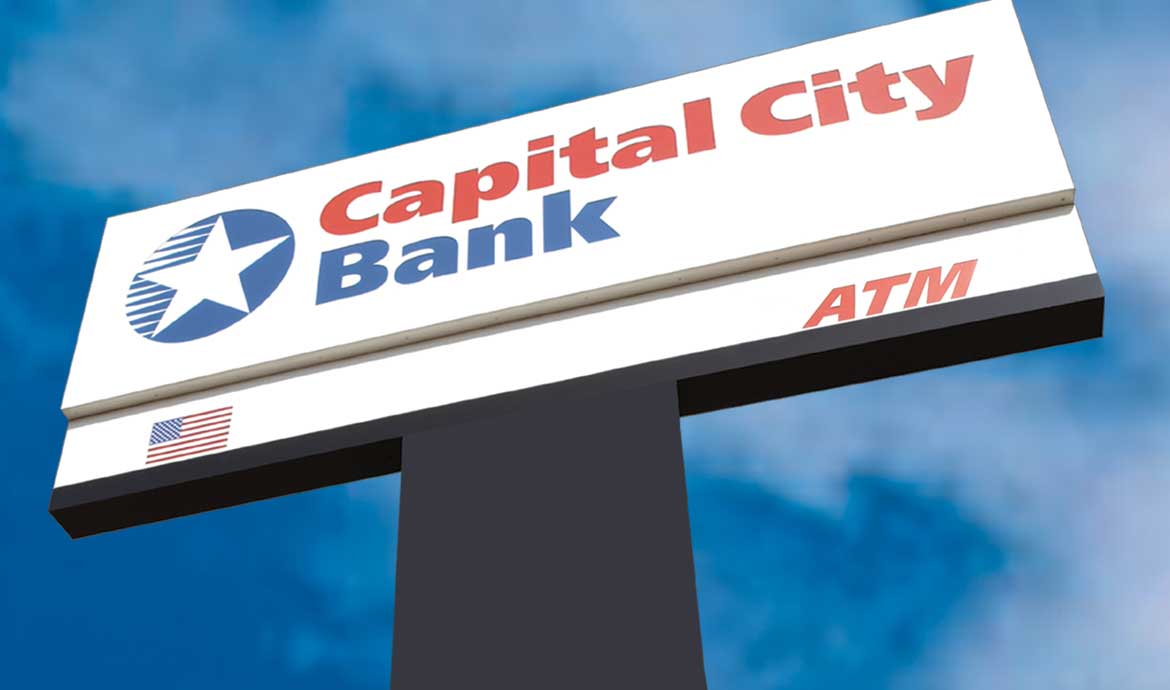 Still going strong...
---
Capital City Bank is the oldest business in Tallahassee. Over the past century and a quarter, we weathered two World Wars, the Great Depression, and the global economic downturn of 2007-2009, all the while keeping the same name on the door.