Stabler Named as Market Executive of Emerald Coast Region
Stabler Named as Market Executive of Emerald Coast Region
Capital City Bank Names Stephen Stabler as Market Executive of Emerald Coast Region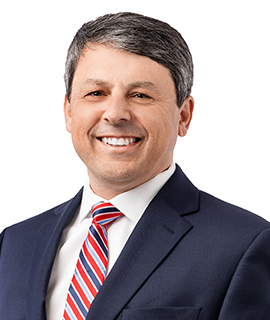 Capital City Bank proudly announces Stephen Stabler has been promoted to regional market executive for the Emerald Coast of Florida. In his expanded role, Stabler directs market strategy and development for the recently formed Emerald Coast region, which includes Gulf and Walton counties. Along with his new responsibilities, Stabler retains his current role as market president for Walton County.
 "The promotion of Stephen is a testament to the continued growth and expansion of Capital City Bank in the region," said Bill Smith, Capital City Bank Group chairman, president and CEO. "We are confident in Stephen's ability to steer the Bank towards sustained success and growth, and we look forward to his leadership in this expanded role."
 Since joining the Capital City Bank team as Walton County president in December 2021, Stabler has been providing local leadership and guiding the development and delivery of Capital City Bank products and services throughout the communities of the Panhandle of Florida. An accomplished career banker, Stabler has two decades of experience in banking and financial services and an extensive background in commercial lending. He has held executive-level positions with Synovus and most recently, Beach Bank of Fort Walton Beach, Florida. Stabler earned his Bachelor of Science in Finance from The University of Alabama in Tuscaloosa. Stabler demonstrates the Capital City Bank commitment to community as an active member of the Walton Area Chamber of Commerce and the North Gulf Coast Chapter of Community Association Institute, as well as through his service on the board of directors for the United Way of the Emerald Coast.